Bring Life Into Focus After Cataract Surgery With the Alcon PanOptix Trifocal Lens
At LaserVue Eye Center, our ophthalmologists go beyond simply treating your cataracts. During laser cataract surgery your natural eye lens is removed, and an artificial intraocular lens (IOL) is implanted in its place. With our Premium Lifestyle Lenses, we can not only treat your cataracts, but we also provide a lifetime of better quality vision. 
At LaserVue, we want to bring your life into focus with the latest advancements in trifocal intraocular lens technology. We are proud to be one of the first ophthalmology surgery centers in the San Francisco Bay Area to implant the Alcon PanOptix® Trifocal Intraocular Lens.
Read on to learn about the revolutionary benefits of the Alcon PanOptix trifocal lens, and how this advanced technology can redefine your quality of vision after cataract surgery.
Alcon PanOptix Trifocal IOL Technology
The PanOptix IOL represents the latest advancement in premium lifestyle intraocular lens technology. This innovative lens is the first and only trifocal implant available in the U.S. for cataract patients with presbyopia. The Alcon PanOptix Trifocal lens design incorporates three sections of rings. Each ring provides a distance of visual clarity: near, intermediate, and distance vision.
Before the PanOptix trifocal lens, intermediate vision had never been addressed by artificial IOL implants. This meant that patients experienced a gap in their range of vision and typically required glasses to make up for it. Thanks to the advanced trifocal IOL design, your range of vision is optimized at any distance and your dependency on corrective eyewear is substantially reduced or eliminated.
The Benefits of The Alcon PanOptix Trifocal IOL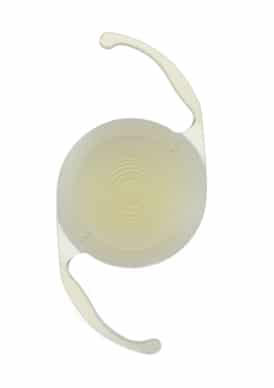 At LaserVue Eye Center, we can redefine your vision after laser cataract surgery with the PanOptix Trifocal Lens. With PanOptix lenses you will experience an outstanding range of vision, effortless focusing power, and a clearer more detailed quality of sight.
PanOptix IOL Provide Complete Comfort and Satisfaction
This premium lifestyle lens delivers incredible patient satisfaction. With the PanOptix Trifocal lens, 99% of patients say they would choose the same IOL implant again, and nearly all of them would recommend it to friends and family. Once you have fully healed from laser cataract surgery, your Alcon PanOptix IOL implant will be discrete and nearly invisible. These premium lens implants provide long-lasting satisfaction with no irritation or discomfort.
Experience an Incredible Range of Vision With the PanOptix Lens
Over 90% of people with PanOptix lenses report they no longer use corrective eyewear, or rarely rely on glasses to see after surgery. The Alcon PanOptix lens eliminates blurry vision, so you can see effortlessly at any distance. You will be able to read, use the computer, and complete day-to-day activities with uninterrupted vision and complete focus.
The PanOptix Lens Improves Your Quality of Vision
With PanOptix lens implants, not only will your range of vision improve but your overall quality of sight will be enhanced. You will be able to see your surroundings more vividly, with sharper clarity, and more defined detail. With Alcon PanOptix lenses you can see the world around you with unparalleled visual quality, and experience restored confidence in your eyesight after cataract surgery.
PanOptix Lenses Reduce Visual Disturbances
For many patients, the Alcon PanOptix lens reduces glares or halos around light, making it easy to see clearly, and with fewer distractions. You deserve to experience the world through revitalized eyes after cataract surgery, and with PanOptix lens implants, you will.
Revitalize Your Vision With the Alcon PanOptix Trifocal IOL Available Now at LaserVue Eye Center
As leaders in the field of Laser Cataract Surgery, our goal at LaserVue Eye Center is to provide each of our patients with the highest quality care. With our advanced intraocular lens technology, we are able to permanently remove cataracts and redefine your quality of vision all in one treatment.
To learn more about the Alcon PanOptix Trifocal Lens, and your options after laser cataract surgery, schedule a free consultation at LaserVue Eye Center today.