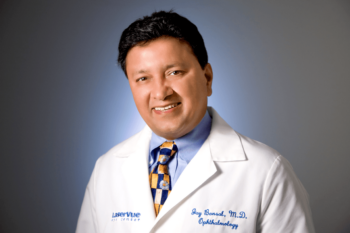 "Each person has unique eye care needs. I believe in taking the time to get to know their individual vision needs and goals. When we get to know each patient, and meet or exceed their expectations… that is the true measure of success."
Jay Bansal, MD
Philosophy of Care at LaserVue
LaserVue Eye Center was founded in 1996 by Dr. Jay Bansal with the purpose of using the world's most advanced vision correction technology to help as many people as possible achieve their best vision without lenses. LaserVue Eye Center is a specialized medical practice that combines state-of-the-art technology with outstanding professionals that have a common goal — improved vision and quality of life for its patients.
By our definition, personalized care means treating the person as well as the eye condition. When you visit our practice, we make you feel comfortable, relaxed and confident as you make the decisions that affect your vision. We give you all the information you need and let you know that you are considered a part of our extended family by trusting your eyes to us. Here are a few ways we define personalized care at our practice:
Commitment/Long-term Care – At many LASIK centers, especially discount centers, you may not be offered long term benefits. It is especially important that your eyesight is carefully monitored during a series of postoperative visits. At LaserVue, we are committed to long-term care and continuity of care. When we treat a new patient, we treat you like a new member of our family.
Trust- We believe that the key to a great doctor-patient relationship is trust. Our doctors and staff go out of their way to make sure you are fully educated and well prepared to make the best decisions about your vision needs.
Character – We are committed to more than superior eye care. Dr. Jay Bansal founded LaserVue Eye Center on many principles of excellence: honesty, trust, integrity, skill, dedication, understanding, and care. Each day, the staff LaserVue Eye Center strive to live up to these principles. We care about your vision because we care about you, and we know that your quality of life is greatly influenced by your quality of vision. We will recommend to our patients only what we believe will help you achieve greater vision!
Education – Jay Bansal, MD graduated from the University of Nebraska School of Medicine where he served as President of the Student Body and Student Regent on the University Board of Regents. From there, Dr. Jay Bansal served an internship at Los Angeles County Hospital/ University of Southern California Medical Center. His Ophthalmology Residency training was at the University of Nebraska College of Medicine where he also served as Chief Resident.  Dr. Bansal also completed a fellowship in Cornea and Refractive Surgery at the Hermann Eye Center/University of Texas Medical Center.
Experience –For over 25 years, Dr. Bansal has exacted his vision of better eye care in the Bay Area, realizing his dream of better surgical technology, techniques, and service for all of his patients. Dr. Bansal is certified by the American Board of Ophthalmology with expertise in LASIK, ZEISS SMILE, PRK, laser vision correction, laser cataract surgery, and premium intraocular lens implants, as well as eye disease management. Dr. Bansal is also proud to dedicate time to advancing the future of vision care by teaching the next generation of eye doctors at LASIK training seminars. Dr. Bansal is a iLASIK trainer to other surgeons on excimer and femtosecond laser technology.
Technology – LaserVue Eye Center continually invests in technology so that our patients have the best chance to improve their vision! In our opinion, dated technology poses a risk that would compromise the level of care we are committed to providing. For this reason, LaserVue Eye Center provides patients the safest and most advanced technology available, including all-laser iLASIK vision correction, WaveLight EX500 Excimer Laser, Zeiss VisuMax Femtosecond Laser, and LifeStyle Lens implants for cataract surgery patients wanting to reduce or eliminate their need for glasses after cataract surgery.
Staff – Each and every member of our staff at LaserVue Eye Center is highly trained, qualified, experienced, friendly and trustworthy (as you may already know). We are always ready and available to address your questions and concerns.
Results – Over the past 25 years, LaserVue Eye Center has helped over 20,000 people from across the United States and around the world gain freedom from nearsightedness, farsightedness and astigmatism, providing the most advanced vision correction solutions available. We are results driven at LaserVue, and have the experience and technology to back up our pledge. We herald an excellent record of successful procedures, satisfied patients and outstanding results. We pride ourselves on our patient's trust and referrals. See our testimonials from LASIK, cataract, and other eye procedure patients.