Our LaserVue Eye Center in Santa Rosa and the San Franciso area  is proud to offer the FDA approved Latisse for patients suffering from hypotrichosis. The Latisse treatment works to grow eyelashes and make them longer, thicker, and darker. Latisse works to make your eyelashes full and viberant to help you look your best.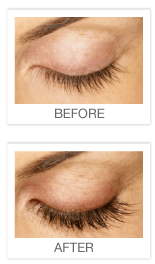 Latisse works by penetrating the eyelash hair growth cycle to stimulate growth. The hair growth cycle is increased and more lashes are generated during the growth cycle. Doctors are still trying to determine the mechanism that causes the increase in growth. Patients have noticed results in as little as 2 months. Latisse is the only FDA approved prescription treatment for hypotrichosis.
If you are suffering from insufficient eyelashes then Latisse may help. LaserVue Eye Center Locations will evaluate your candidacy prior to prescribing you a prescription. Latisse is not for patients who have eye pressure problems or are taking medications for eye pressure problems. Patients who may be at risk for glaucoma should avoid using Latisse. Test show potential side effects may include itching, eye irritation, dryness or redness of the eyelids. If you develop symptoms after you begin treatment you should contact LaserVue Eye Center immediately.
Latisse is a simple treatment that will fit into your daily routine. LaserVue Eye Center recommends applying Latisse prior to going to bed. Before applying Latisse you should wash your face, remove all excess makeup and remove your contact lenses. The next step would be to apply the solution using one of the disposable applicators. You apply the solution going from the inside on the eye to the outside making sure to follow the eyelash line. Each applicator is good for one use and then should be disposed.
If you are interested in learning more about Latisse, Please call us at 707-800-6432 for a personal consultation with Dr. Singh.