Reduce the Need for Reading Glasses with Monovision LASIK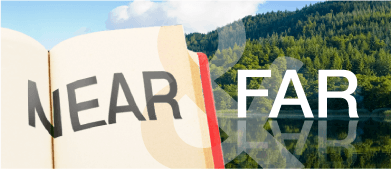 If you are experiencing difficulty with reading vision and distance vision, it is possible to treat one eye for near vision and the other eye for distance vision. Our doctors sometimes recommend this approach, which is known as monovision. Monovision can reduce the need for reading glasses or bifocals by working around presbyopia in properly selected candidates. Monovision can be accomplished with LASIK, contact lenses or cataract surgery in San Francisco Bay area.
Monovision decreases the necessity for both near and distance glasses. Although this may sound confusing, patients adjust well, and report great results. Monovision could be the best option for the specific needs of patients over 40 who wish to avoid glasses altogether. However, to determine which solution is best for you, our doctors will need to analyze your eyes to make a recommendation. At the time of your consultation, our doctors may ask you to trial a monovision simulation, so you can see for yourself whether it is something that meets your visual needs.
Is Monovision LASIK Right for You?
The monovision simulation is performed with a trial contact lens. We put one contact lens in your dominant eye for distance vision and another in your nondominant eye for up-close reading vision. After a few days, your eyes will adjust to the simulation and you will experience how monovision would affect your vision. If you decide that you like how you see after this trial of monovision, we will correct your vision that way with LASIK. This results in your having improved both near and distance vision without dealing with the hassles of glasses and contacts.
Treat Presbyopia with Monovision LASIK
Patients who are seeking vision correction surgery around or over the age of forty will experience presbyopia. Presbyopia is a universal condition caused by the loss of accommodation, or the inability to focus our lens as we age. The loss of accommodation occurs as our natural crystalline lens begins to harden and lose its flexibility as it continues to enlarge throughout our life. Once the loss of accommodation begins, the patient will have increasing difficulty focusing at near, heralding the need for reading glasses. For LASIK patients who may already be experiencing presbyopia, monovision LASIK can correct one eye for distance vision and the other eye for near vision.
Schedule Your Monovision LASIK Consultation
Please call 1.800.LASER.45 (1.800.527.3745) to schedule a free LASIK for Monovision consultation to determine if you are a good candidate.
Try our LASIK self-evaluation to see if LASIK might be a good option for you before visiting one of our 4 locations.