Glasses and contact lenses are great, but if you wear them, you know they come with limitations. If you live in the San Francisco area and are sick of dealing with visual aids, LASIK may be perfect for you!
LASIK is a vision correction procedure that's safe and highly effective to undergo with incredible results. Have you ever dreamed of achieving complete visual freedom?
Having LASIK can help you make this dream a reality. What's more, LASIK comes with a 96% patient satisfaction rate.
Combine that with its short and sweet recovery period, and it's easy to see why so many people choose to have LASIK. If you're in San Francisco, there are so many things you can do after you have LASIK.
Keep reading to find out why LASIK changes everything you see in San Francisco and what it means for the state of your vision!
Experience Illuminate SF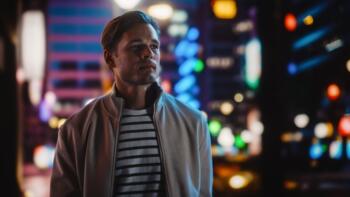 Illuminate SF is a series of permanent and rotating light art installations you can find around different parts of San Francisco. You can view these fantastic art pieces by taking a walking tour.
During your tour, you can take the opportunity to see more of San Francisco. After you have LASIK, you'll be able to do more, so self-guided tours, even at night, will be a cinch to navigate.
You won't have to worry about your contacts or glasses getting in the way, and you can enjoy all the beautiful lights all over the city. You'll also have improved vision, including better depth perception and the ability to see more contrast.
If you've ever wanted to see the tiniest details, LASIK can help you see everything with crystal-clear definition and clarity! How can you have a problem with clearer vision that makes everything around you look better?
Admire the Artwork at SFMOMA
One of the must-see museums in San Francisco is the San Francisco Museum of Modern Art, or SFMOMA, as it's affectionately called. At SFMOMA, you can see some of the most spectacular and famous modern art pieces in person.
Once you've had LASIK, you can experience these pieces without any frames or contact lenses standing in your way. Getting LASIK is about more than seeing without visual aids, although that is a plus.
LASIK also enhances your vision far beyond the point of what was possible when you used visual aids. Want to see 20/20 or better? Most LASIK patients end up with 20/20 vision or better, making that a very likely possibility!
Art exhibits at SFMOMA will look sharper and brighter thanks to LASIK, but you'll notice its effects in every facet of your life. What better place to see everything in high definition than one of the best art museums in the country? See art in a whole new light with your incredible vision!
Immerse Yourself at Coit Tower and The Floor to Ceiling Murals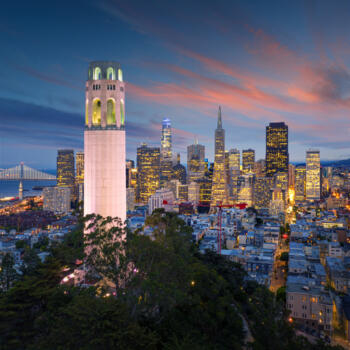 The Coit Tower is an iconic part of the San Francisco skyline. You can take a tour inside and climb to the top, viewing the magnificent murals.
That's not including the extraordinary view of the city from the top! After you have LASIK, you'll be able to see everything better, making the sights more spectacular, no matter where you are.
You'll also have an easier time going out for activities like visiting Coit Tower because you won't have to worry about your glasses or contacts. Indoor and outdoor activities are so much easier after you have LASIK!
Check out the Four Story Rainforest at the California Academy of Sciences
Have you ever seen an indoor rainforest? If you have, it must have been at the California Academy of Sciences, home of the state-of-the-art Osher Rainforest.
The Osher Rainforest is a functioning rainforest ecosystem in a four-story glass dome! But you haven't seen it until you've experienced it after the life-changing effects of LASIK. Imagine no frames, lenses, or glasses to stand in your way.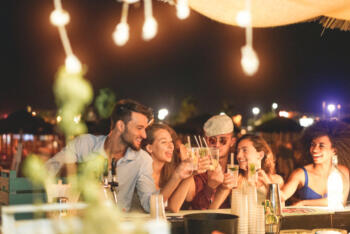 You'll be able to see the lush plant and animal life with clear vision! Over 95% of LASIK patients achieve 20/20 vision or better. Not only will you be able to see without pesky glasses and contacts getting in the way, but you'll also be able to see everything so much better than you ever could with visual aids.
The California Academy of Life and Sciences also boasts an aquarium and planetarium, making it the perfect place to spend the whole day or night! NightLife is an event held by the museum after dark exclusively for visitors 21 and over.
You can come to have a drink and party with your friends in one of the most incredible spots in the city! After LASIK, you can stay out late without worrying about your contacts drying out, letting you enjoy every minute of your evening.
Shop and Dine at Ghirardelli Square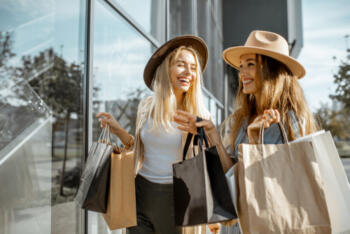 Ghirardelli Square is the site of an old chocolate factory, now restored and filled to the brim with trendy shops, restaurants, and art galleries. It's the perfect place to spend the afternoon and splurge a little on shopping and dinner.
After you have LASIK, you'll be able to enjoy all of your time out and about even more with your new and improved vision. But you may not know that you'll also be able to save money!
Although LASIK seems like an expensive procedure, it's a one-time expense. You can also make it more affordable by choosing a no-interest payment plan.
At Laser Vue Eye Center, we offer these to our vision correction patients to ensure they can achieve their visual goals without breaking the bank. LASIK is also permanent, meaning you can look forward to years of clearer vision and visual freedom.
You'll also save money over time since LASIK pays for itself. Most patients pay off their procedure in as little as two years. You'll save money by no longer needing to spend anything on glasses, contact lenses, or the various accessories that go with them.
You can enjoy going out and treating yourself even more, knowing you've made an excellent financial investment in your vision. Go out, enjoy the sights, and don't feel guilty for splurging a little!
Ready to find out if you're a good LASIK candidate? Take the first step by scheduling your LASIK consultation at Laser Vue Eye Center in San Francisco, CA, today!