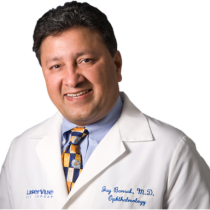 Dr. Jay Bansal addresses patient questions about LASIK Eye Surgery. Dr. Bansal is a leading laser eye surgeon located in the Bay Area of Northern California. With over 25,000 eye surgery procedures, Dr. Bansal often speaks at industry events and offers his patients the safest eye surgery correction procedures by investing in the newest and safest technologies.
Is it better for someone to have PRK for a LASIK enhancement if they developed dry eyes from the original LASIK surgery?
Since it has been over 10 years since you had LASIK, PRK would be a better option for an enhancement. By this time your eyes have had plenty of time to heal and the previously created flap will be held down pretty tight. Re-lifting the flaps to perform a LASIK enhancement may prove to have more risks than benefits since flap complications may occur. PRK would eliminate the flap risks and also decrease the amount of dryness that you may experience. You may still notice some dryness after PRK especially during the first several months after surgery when your eyes are still healing.
I'm 44 year old male , got my retina detached and was operated on 7 years ago, been hyper myopic….Is LASIK possible for me?
Yes, it is possible for you to have LASIK after having a repaired retinal detachment. During LASIK, a suction ring applies pressure on your eye and if you have any retinal holes or detachments that have not been repaired, the pressure may worsen them leading to vision loss. Therefore, you must have a comprehensive dilated eye exam and clearance from your retinal ophthalmologist prior to surgery.
How thick should be cornea for PRK eye surgery? Is there any specific number? If my cornea too thin am I still eligible for PRK?
During PRK, the top surface of your cornea is removed and a laser performs treatment to either flatten or steepen your cornea. Generally speaking your corneas should be at least 450 microns thick and should have at least 300 microns of tissue left after PRK. The amount of tissue that the laser removes depends on the amount of prescription that your eyes have. When you go in for your refractive surgery consultation, the eye doctor will be able to evaluate your eyes and look at many different variables to ensure that you are a good candidate for PRK.
Dr. Jay Bansal
Medical Director for LaserVue LASIK & Cataract Center