The Benefits of Custom LASIK Laser Eye Surgery with Advanced Wavefront Technology
Three out of four adults in the U.S. rely on corrective eyewear like glasses or contact lenses to see clearly every day. At LaserVue Eye Center we are dedicated to providing long-lasting solutions for all of our Bay Area patients struggling with poor eyesight. Our board-certified ophthalmologists are recognized as leaders in refractive eye surgery and experts in some of the most advanced surgical techniques and technology including custom LASIK eye surgery.
When you receive a custom LASIK treatment at LaserVue Eye Center your entire surgical procedure is tailored to the unique characteristics of your eye. This provides our patients with the personalized comfort, safety, and precision they deserve, along with superior results.
Read on to learn more about the life-changing benefits of custom LASIK eye surgery and the most advanced laser vision correction technology available at LaserVue Eye Center.
Custom LASIK Eye Surgery with Wavefront Technology
The Wavefront system provides a detailed analysis of your unique cornea curvature and provides an in-depth diagnosis of all your visual distortions. This allows us to create a custom LASIK surgical plan specific to your individual needs.
WaveScan Eye Analysis
To create your personalized treatment plan, your eye doctor will use our WaveScan system to analyze each of your eyes. With this in-depth diagnostic system, we will be able to identify all of your corneal irregularities and distortions.
With traditional LASIK methods, we were only able to correct low-order aberrations (LOAs). Custom Wavefront LASIK allows our surgeons to detect and treat both low and higher-order aberrations (HOAs) with one procedure.
Low-Order Aberrations
Myopia (nearsightedness)
Hyperopia (farsightedness)
Astigmatism
High-Order Aberrations
Glare
Starbursts
Halos
Poor night vision
The WaveFront analyzer will send a ray of light into your eye that will travel through your retina and reflect back through your cornea. This will provide a detailed analysis of all of your lower- and higher-order distortions. The data gathered goes even further by analyzing exactly how your eye processes light and allows you to see.
Wavefront 3D Mapping
With this extensive measurement and diagnostic report, we will manufacture a three-dimensional map of your entire ocular structure detailing how your eye operates. This 3D map is then used to customize your LASIK laser procedure and reshape your cornea.
The map of an eye with perfect vision will have an undisturbed corneal curvature, while a map of an eye with refractive errors will present with indentations and spikes indicating high and low- order aberrations and other vision distortions.
Custom LASIK vs. Traditional LASIK
During a traditional LASIK procedure, your refractive error is corrected based only on your level of vision prescription. While this method has proven successful for many patients, new advancements in LASIK technology takes laser vision correction to a whole new level.
Technology
Custom LASIK utilizes the most advanced laser technology available throughout your vision correction journey. With state-of-the-art diagnostic technology, your eye surgeon can create a personalized treatment plan tailored to your specific requirements. Diagnostic methods and surgical treatment used during traditional LASIK are limited in comparison.
Accuracy
When creating a custom LASIK treatment plan, we are able to provide more in-depth measurements of your cornea and comprehensive details of your refractive errors. This higher quality analysis will allow your ophthalmologist to perform a more accurate surgical procedure compared to traditional LASIK.
Get Personalized Vision Correction at LaserVue Eye Center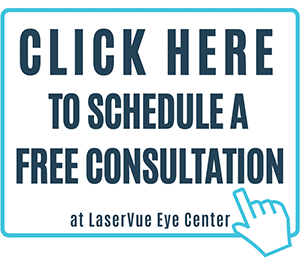 With advanced WaterFront laser technology, you can experience personalized vision correction like never before. With expert care, and advanced treatment options your eye surgeon at LaserVue Eye Center can create a vision correction plan specific to your individual needs.
Take the first step towards your best visions and get the customized care you deserve by contacting us for a free LASIK consultation today.