Most people have heard of vision correction procedures. What could be better than permanently achieving visual freedom and saying goodbye to glasses and contact lenses? 
But what most people only think of is one procedure: LASIK. LASIK is the most popular elective medical procedure you can undergo. 
But that doesn't mean it's the only one! If you want to achieve visual freedom but want more options, consider a procedure like ZEISS SMILE. 
ZEISS SMILE is a minimally invasive vision correction procedure that leaves patients with 20/20 vision or better (like LASIK). It's also comparable to LASIK in cost and results, is far less invasive than LASIK, and has a faster recovery period. 
These are some of the many reasons why ZEISS SMILE is one of the most exciting ways to correct your vision. After you get ZEISS SMILE, chances are excellent that you'll have incredible sight and total visual freedom from glasses and contact lenses. 
If you choose to have ZEISS SMILE at LaserVue Eye Center, you can also look forward to seeing your whole city in a brand new way. Keep reading for a few reasons why you'll never look at San Francisco the same after ZEISS SMILE!
See Your Favorite Landmarks in a Whole New Light
San Francisco is full of some of the most iconic landmarks in the world. From the Golden Gate Bridge to Fisherman's Wharf, there's no shortage of places to go and take in the scenery. 
But anyone who lives in the city has seen all these places a million times. That's where ZEISS SMILE comes in. 
With improved vision, you can literally see all the best parts of San Francisco like never before. ZEISS SMILE permanently changes your vision so you can see without glasses or contact lenses. 
But the procedure does a lot more than that as well. Since ZEISS SMILE can give you 20/20 vision or better, you'll see better than you could with contacts or glasses! 
After ZEISS SMILE, patients have better depth perception and color perception. Everything looks sharper and more vibrant. If you've ever wished you could see San Francisco with new eyes, ZEISS SMILE will let you! 
Have an Easier Time at the Gym
Staying fit is difficult no matter where you live. But it's even more complicated if you rely on glasses or contact lenses. 
Who wants to deal with glasses when you're sweating through a workout or contacts that always seem to be in the wrong place when you get in the zone? Irritation doesn't fit with your exercise plan! 
When you're at the gym, you either have to worry about your glasses constantly sliding off your nose from sweat or your sweat getting in your eyes while you're wearing contact lenses. You also risk losing a contact lens or breaking a pair of glasses if they fall off while lifting weights! 
They could also get scratched, dinged, or damaged, which could cause unnecessary expenses to replace or repair them. After ZEISS SMILE, you won't have to worry about your glasses or contact lenses because you'll be able to see without them. 
You'll have an easier time working out, so you can more easily stick to a routine. You can even try new workouts that your eyewear may have kept you from, like swimming or contact sports! 
Plus, you can work up a sweat with better vision, meaning that you can no longer use your poor vision as an excuse for why you didn't work out. ZEISS SMILE can help you finally commit to your workouts!
Take More Time For Yourself
Visual aids don't just get in the way when working out. They can get in the way all the time! 
Misplacing your glasses or accidentally falling asleep during an all-night binge of your favorite Real Housewives show can suddenly become a bigger problem if you hear a crunch under you. But wearing visual aids also takes time. 
If you wear contact lenses, you have to spend precious minutes changing your contacts in and out every morning and night. It may not seem like a lot of time, but it adds up. 
Wouldn't you rather spend that time sleeping a little longer or even making yourself a cup of coffee at home rather than rushing to work? Or what about sitting down to enjoy breakfast instead of frantically cramming a cereal bar down your throat during your commute?
Even if you primarily wear glasses rather than contact lenses, you still waste a lot of time adjusting and cleaning them throughout the day. You can save all that time after you get ZEISS SMILE because you'll be able to see from the moment you wake up without needing any eyewear or visual aids. 
You'll have crisp, clear vision inside when you're hanging out, outside when you're window shopping and everything in between. You'll never have to feel like there are limitations to your vision and what you can see.
Treat Yourself
There are plenty of places to indulge in San Francisco, with dozens of Michelin-star restaurants and endless unique small stores for you to go shopping. It may sound counterintuitive since ZEISS SMILE requires an up-front cost, but once you correct your vision, you can feel less guilty about spending a little extra on luxuries after ZEISS SMILE. 
Why? Because ZEISS SMILE can save you money!
Since ZEISS SMILE is a permanent procedure, it'll provide you with years and years of visual freedom. During that time, you won't have to spend any money on glasses, contact lenses, or accessories to help you see. 
All those expenses add up, meaning you can save hundreds every year! Year after year, you'll keep saving. 
ZEISS SMILE pays for itself and then some. Most patients who choose patient financing options find they pay off the vision correction procedure in as little as two years. So, spend a little on yourself, knowing you've made a sound financial investment.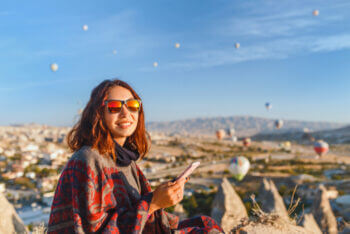 Enjoy Complete Visual Freedom
When you get ZEISS SMILE, you can look forward to the vision of your dreams, and even better. After all, most patients end up with 20/20 vision or better. 
ZEISS SMILE is best suited for patients looking to correct nearsightedness and astigmatism, meaning if you don't qualify for LASIK, ZEISS SMILE may be the key to changing your life instead. Get back to the things you love in the blink of an eye while enjoying better vision than you ever thought possible after ZEISS SMILE.
Ready to find out if you're a good candidate for ZEISS SMILE? Start by scheduling a consultation at LaserVue Eye Center in San Francisco, CA, now! You've waited long enough; isn't it time to love your vision?