If you are suffering from vision impairment due to cataracts, you are not alone. One in every six people over the age of 40 will develop cataracts. At LaserVue Eye Center we have over a decade of experience performing Laser Cataract surgery, and we pride ourselves on providing each patient with the highest standard in patient care.
Below you will find a brief overview of what you can expect when you decide to have Laser Cataract surgery at LaserVue Eye Center.
What Happens During Laser Cataract Surgery
Laser Cataract surgery is a quick out-patient procedure. This 100% blade-free approach is gentler and more precise than any other cataract surgery technique.
Dr. Bansal will use a state of the art femtosecond laser to remove the natural lens of your eye and gain access to the cataract. With ultrasonic waves, he breaks up the cataract to remove it more efficiently. Your natural lens is then replaced with an intraocular lens implant.
With Laser Cataract surgery, Dr. Bansal is able to deliver more accurate control over the entire procedure, resulting in a more predictable healing process and surgical outcome.
How to Prepare for Laser Cataract Surgery
Before your surgery, you will be provided with a surgical clearance form that your primary care physician will need to sign. Once cleared by your doctor, you will be prescribed with antibiotic and anti-inflammatory eye drops that you will need to start using three days prior to your surgery date.
What to Expect the Day of Your Laser Cataract Surgery
From start to finish your appointment should last about 2 hours. Plan to arrive at least one hour before your surgery time. You will be prepped for surgery by a nurse, who will take your temperature, blood pressure, and pulse.
Your pupils will be dilated and your eyes will be numbed with an anesthetic eye drop. Intravenous medication will be administered so you are fully relaxed, and your blood pressure and heart rate will be monitored throughout the procedure.
You will remain awake during your laser surgery, which will last only 15 to 30 minutes. If at any time you feel discomfort we will immediately administer additional medication. Most patients at LaserVue Eye Center report little to no pain or discomfort throughout their procedure.
After the surgery is completed we will continue to monitor you for 30 to 45 minutes, until releasing you into the care of a trusted friend or family member who will drive you home.
After Laser Cataract Surgery
You should plan on taking it easy for a couple of days following your surgery. With advised caution, most patients are able to return to daily activities the very next day. You will be provided a protective eye shield to wear while sleeping, or napping, and you must wear UV protective sunglasses while outside.
It is normal to experience some light sensitivity, and mild blurred or hazy vision while healing. Every patient will have a different recovery process, but many experience vision improvements within a couple of days of surgery.
Common Side Effects from Laser Cataract Surgery
Although cataract surgery is one of the simplest and most common surgeries in the United States, it's still a surgery, meaning that there are some side effects that you may experience. Here are some:
Dry eyes
Itchy eyes
Light sensitivity
Redness or inflammation
Continue to use all prescribed eye drops and medicines until told otherwise. Make sure to review all your healing symptoms with your doctor at LaserVue Eye Center and attend your follow-up appointments.
Please contact our office immediately if you experience any of the following:
Severe pain or discomfort
Vision loss
Trauma to the eye(s)
Increased redness or discharge
Nausea or vomiting
Read our other blog post, "What to Expect After Cataract Surgery" for a more in-depth overview of what to expect the days, weeks, and months after your laser surgery.
LaserVue Eye Center is Here for You Before, During, and After Your Procedure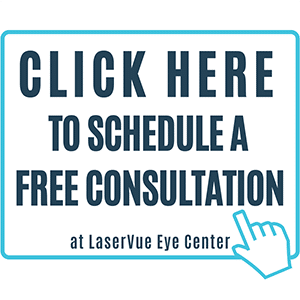 Our trusted surgeon Dr. Jay Bansal is eager to answer all of your questions about Laser Cataract surgery. At LaserVue Eye Center we want to ensure you are comfortable and confident throughout your entire journey toward vision correction.
If you are ready to take the first step to optimal vision health, schedule a free consultation online today!