5 Surprising Benefits of LASIK Eye Surgery in 2020
LASIK eye surgery has been the world's most popular laser vision correction surgery for over twenty years, with more than 700,000 people turning to this life-changing procedure annually. You might be wondering if this is the year you should get LASIK, especially during COVID-19.
Besides just improving your vision, you would be surprised at all the additional benefits LASIK surgery provides. Read on to learn about all the ways LASIK is continuing to change lives for the better in 2020.
1. Eliminate Foggy Glasses with LASIK
In an effort to limit the spread of Coronavirus, we have all had to adjust to wearing face masks in public spaces. But for the people who rely on corrective eyewear to see every day, these protective face masks create a new issue: foggy glasses. 
This fog is caused by the warm air of your breath escaping your face masks and coating your lenses in condensation. This is obviously problematic, as it disrupts your vision and requires you to constantly adjust your glasses or mask. 
With LASIK laser eye surgery, you can ditch the glasses and the fog with one simple procedure.
2. Ditch Dirty Glasses and Contact Lenses After LASIK Eye Surgery
If you rely on corrective eyewear to see clearly, keeping your hands clean is only part of your concern during COVID-19. Add to the list of things that need continual cleaning and sanitizing: your glasses, your glasses case, your contact case, your contact solution bottle…. And this list goes on and on. 
After LASIK eye surgery, you won't need to worry about any of these additional tasks, and can wake up every day with one less worry.
3. Reduce Risk of Eye-Related Infections After LASIK
Contact lenses can be a great alternative to eyeglasses for many people, but without continual care, you can be more at risk of eye infections. You are also more at risk of corneal ulcers, tears, conjunctivitis, and many other eye-related infections. 
Eye irritation, such as itchy or dry eyes throughout the day are common in people who wear contact lenses. These nuisances can make eliminating hand to face contact impossible, increasing your risk of coming into contact with potentially harmful pathogens.
LASIK eye surgery is among the safest laser vision correction procedures available today. This procedure heals naturally within days, with no need for stitches or bandages. With 100% blade-free technology, you can expect a swift procedure with no complication.
4. Return to Work Quickly After LASIK Eye Surgery
LASIK is a quick out-patient procedure with life-changing results. The procedure lasts no longer than 30 minutes, with many patients reporting little to no pain. You can return to normal activities like work, and even light exercise after just a couple of days of downtime. If you are currently working from home, you may even be able to return to your remote work the very next day, with no need to take time off.
At LaserVue Eye Center, Dr. Jay Bansal has performed over 25,000 successful LASIK procedures. The comfort and satisfaction of our patients is our number one goal. Our entire team is dedicated to continuing to support you through your entire healing process with outstanding follow-up care.
5. Save Money with LASIK
Prescription glasses and contact lenses need to be updated regularly to account for the gradual vision loss we all experience as we age. Not to mention all the pairs of glasses and lenses that go missing or get damaged over time. No matter which way you look at it, corrective eyewear is a never-ending bill that will just become more costly over time. 
Our eye surgeons aim to make LASIK vision correction accessible to everyone no matter their budget. At LaserVue Eye Center your initial LASIK consultation is free of charge and can be conducted 100% virtually. 
Additionally, we offer LASIK financing options and affordable payment plans to all our Bay Area patients. We want to work with you to find a monthly payment plan that best suits your needs.
Contact LaserVue Eye Center for a Free LASIK Consultation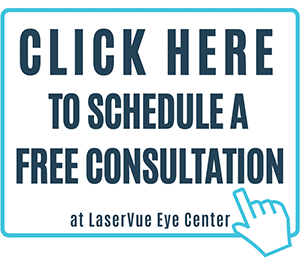 Our entire team of eye care professionals at LaserVue Eye Center is here to ensure your comfort and success through your entire vision correction journey. Learn why we are considered one of the Bay's Area's leaders in refractive surgery, and contact us today. 
You can schedule a free in-person or virtual LASIK eye surgery consultation today. Whether in office or virtual, all our complimentary consultations require no obligation and are social distancing-approved!