How Cornea Size Affects Your Candidacy for LASIK Eye Surgery
LASIK is the most commonly performed surgery for correcting refractive errors. In fact, over 700,000 people undergo this procedure every year. While LASIK is a great option for most patients, some people may not be ideal candidates. To be a candidate for LASIK, your corneas must be thick enough to treat your full prescription.
You may be wondering, "Why is the thickness of my cornea important for LASIK?", and the answer is simple – safety.
Corneal Thickness and LASIK Safety
At LaserVue Eye Center, we conduct a pre-screening of all of our patients to ensure LASIK is a safe option. Assessing your corneal thickness is an essential step in your LASIK screening process, which will determine if you are an ideal candidate for this type of laser eye surgery.
Performing LASIK on a patient with thin corneas can lead to serious complications and further comprise vision quality and health. Your safety and comfort is our number one priority at LaserVue Eye Center. If it is determined that your cornea is too thin or weak, you may not qualify for LASIK eye surgery.
Measuring Your Cornea
To accurately measure the thickness of your cornea, we use imaging as well as ultrasound technology.
Creating a Corneal Flap During LASIK
During the LASIK procedure, your ophthalmologist uses a laser to create a flap in your corneal tissue. This flap allows your surgeon to gain access to the corneal stroma and reshape it to correct a refractive error. Because the surgery requires removing corneal tissue, if your cornea is not thick enough, it will not be able to support further thinning of the cornea.
Corneal Thickness Requirements for LASIK
An ideal LASIK candidate will typically have a cornea that measures at 500-600 microns in thickness. This is optimal because the corneal flap will need to be about 110 microns thick and the procedure will remove about 16 microns per diopter of vision correction required. Your eye surgeon will want to ensure there is a certain amount of tissue remaining according to FDA guidelines.
What If My Cornea is Too Thin for LASIK Laser Eye Surgery?
Our ophthalmologists at LaserVue are dedicated to providing personalized care and helping you find the best option for your unique vision needs. If you have been previously told you do not qualify for traditional LASIK because your corneas are too thin, you may be a perfect candidate for other refractive surgeries.
ZEISS SMILE Eye Surgery
Small Incision Lenticule Extraction (ZEISS SMILE) laser eye surgery is a minimally invasive surgical procedure that does not require the creation of a corneal flap. During ZEISS SMILE surgery, your eye surgeon reshapes your cornea through a small 3mm incision with an advanced femtosecond laser. This procedure may be a possible alternative to LASIK for patients with mildly thin or irregularly-shaped corneas.
Visian ICL Refractive Implant Surgery
Visian ICL (Implantable Collamer® Lens), is a refractive implant used to correct common refractive errors without the removal of any corneal tissue. Instead of reshaping your cornea to correct your vision, your ophthalmologist will implant a vision-correcting lens into your eye through a small corneal incision. Visian ICL may be a great option for you if you have been previously disqualified for LASIK.
Learn more about LASIK alternatives available at LaserVue Eye Center that can benefit patients with thin corneas.
Get a Free Consultation at LaserVue Eye Center to Determine the Best Laser Eye Surgery for You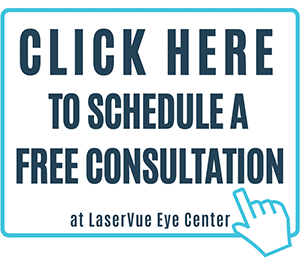 Our board-certified ophthalmologists at LaserVue are recognized as leaders in refractive eye surgery. With expert knowledge and first hand experience with some of the most advanced surgical techniques and technology, we are confident we can find the best solution to your vision needs.
If you are considering laser eye surgery and would like to explore your options, or have been previously disqualified for LASIK, contact us online to schedule a complimentary consultation at LaserVue Eye Center.