5 Reasons to Schedule an Appointment with an Ophthalmologist
Just like you get routine check-ups from your primary care provider, visiting your ophthalmologist plays an important part in maintaining your overall health. Ophthalmologists are medical doctors who specialize in all eye care and vision services. From routine vision exams to advanced ocular disease prevention, your ophthalmologist can diagnose and treat it all.
But when should you see an ophthalmologist? We've outlined five instances when you should schedule an appointment: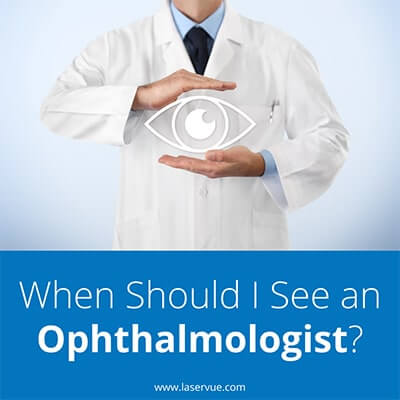 1. You're Due For a Comprehensive Eye Exam
Routine comprehensive eye exams are one of the best ways to prevent eye conditions from causing permanent damage. With regular exams, your ophthalmologist can detect potentially harmful eye conditions even if you don't have any symptoms. Diagnosing eye diseases early can ensure you receive the care you need before any irreversible vision loss occurs.
Many detrimental eye conditions can develop later on in life, making your age a primary factor in determining how often you should schedule regular eye exams.
How Often Should I Get an Eye Exam?
Adults Under 40 – Every 2-3 years
Adults Over 40 – Every 1-2 years
Adults Over 65 – Once a Year
Many people who develop age-related eye conditions show no symptoms until it's too late. Scheduling regular eye exams with the ophthalmologists at LaserVue Eye Center can help ensure the longevity of your eye and vision health for years to come.
2. Your Family Has a History of Eye Disease
If you have a family history of eye disease or other vision problems, you should consult with your ophthalmologist about how often you should have your eyes examined. If members of your family suffer from eye conditions like cataracts, glaucoma, or macular degeneration, you could have an increased susceptibility to them as well.
The ophthalmology team at LaserVue offers state-of-the-art technology and advanced knowledge in treating all eye diseases and conditions.
3. You Need Corrective Eyewear
Your ophthalmologist can provide a wide range of eye care, including diagnosing and treating common vision issues such as Farsightedness (hyperopia), nearsightedness (myopia), age-related farsightedness (presbyopia), and astigmatism.
Ophthalmologists are committed to providing personalized solutions to your visual needs, including prescribing corrective eyewear such as eyeglasses and contact lenses. The comprehensive optical services at LaserVue Eye Center include a large selection of specialty eyeglasses for your unique needs.
4. You are Considering Laser Eye Surgery
Ophthalmologists specialize in a full spectrum of eye care including the surgical correction of refractive errors. If you are one of the millions of people who suffer from blurry or imperfect vision, laser eye surgery could be the permanent solution you've always dreamed of.
At LaserVue, we offer the most advanced vision correction laser surgeries including Custom LASIK, ZEISS SMILE laser eye surgery, Visian ICL, and much more. If you struggle with poor eyesight, our ophthalmologists can help you find the best laser eye surgery for your needs through a free consultation.
5. You Have Experienced Recent Changes in Your Vision
If you have recently experienced changes to your vision, fluctuations in your vision prescription, or new uncomfortable eye symptoms, contact an ophthalmologist immediately. Vision changes can indicate many ocular conditions and other harmful bodily ailments.
Vision Changes to Report Immediately:
Blurred, or double vision
Flashes of light or floating spots or lines
Rainbows or halos around lights
Curtained vision
Sensitivity to light
Swelling or redness in or around your eyes
Itching, burning, or discharge from eyes
Any changes in visual quality
Maintaining your overall health includes receiving appropriate eye care, so it is essential to try and remain aware of any changes in your eyesight. Contact an emergency medical professional if you experience very sudden changes in your vision like blindness or severe eye or head pain.
Schedule an Appointment with the Board-Certified Ophthalmologist at LaserVue Eye Center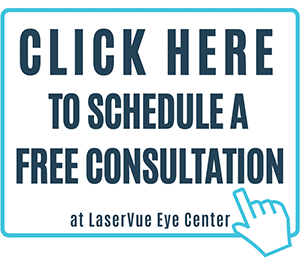 It is important to choose an ophthalmologist that is dedicated to providing the personalized care you deserve. At LaserVue Eye Center, our board-certified ophthalmologists take pride in offering all our Bay Area patients the highest quality eye and vision care for their unique needs.
If you have a pre-existing eye condition, experience changes in your vision, or need a routine eye exam, contact our ophthalmology team today to schedule a consultation.