Visian ICL Refractive Implants are Available Now at LaserVue Eye Center
The Visian ICL (Implantable Collamer® Lens) procedure represents the latest in refractive implant technology and is available now at LaserVue Eye Center. Visian ICL surgery is a minimally-invasive, safe, and effective procedure that can permanently correct common vision issues.
Read on to learn more about the Visian ICL refractive implant procedure and the life-changing vision correction this advanced technology offers.
Visian ICL Refractive Implants Overview
Visian Implantable Collamer® Lenses are refractive implants used to correct common vision issues. They are made of biocompatible Collamer material and are designed to work in harmony with your eye. This advanced lens technology also offers UV-protection from damaging ultraviolet rays.
Vision Correction
Visian ICL surgery can permanently reduce or eliminate your dependency on corrective eyewear such as glasses or contact lenses.
Visian ICL refractive implants can correct the following vision issues:
Nearsightedness (myopia)
High myopia (up to -20.00 D)
Astigmatism
These advanced refractive lens implants are even proven to improve night vision in many patients. ICL refractive implants provide unparalleled quality of vision with stable outcomes resulting in a 99% patient satisfaction rate.
Candidacy
Vision ICL surgery was approved by the FDA in 2018 for patients over the age of 21. Many patients who are not suitable for LASIK or other refractive surgeries can be ideal candidates for this cutting edge procedure. If you have been previously told your corneas are too thin for other laser eye surgeries, Visian ICL implants could be the alternative solution to correcting your refractive errors.
Procedure
Unlike other refractive surgeries, Visian lens implants offer additive technology that corrects vision without the removal of any corneal tissue. A small incision is made in your corneal lens to allow your surgeon to comfortably implant the refractive lens into your eye. Anesthetic eye drops will be administered prior to your procedure which will ensure your surgery is pain-free.
The Visian ICL procedures take less than 30 minutes, and you should expect your entire appointment to be over in about an hour. You will need a trusted friend or family member to drive you home after your surgery, and you should plan on taking the remainder of the day to rest. Your eyes will begin healing immediately, and your vision will continue to improve over the next couple of days.
Many LaserVue patients report vision improvement immediately following the procedure.
Recovery
Because no lens tissue is removed during your Vision ICL implant procedure, recovery is typically fast and simple compared to other refractive surgeries. LaserVue patients report fewer instances of uncomfortable side effects such as dry eye syndrome, which can result from other vision correction procedures.
Always follow your ophthalmologist aftercare instructions to ensure you are on the fast track to a smooth recovery.
Removal
Not only can Visian ICL refractive implants provide immediate vision improvements but they are also comfortable, and discreet. While this solution is designed to be permanent, your Vision ICL lenses can be removed to accommodate your needs.
Contact LaserVue Eye Center to Learn if Visian ICL is Right for You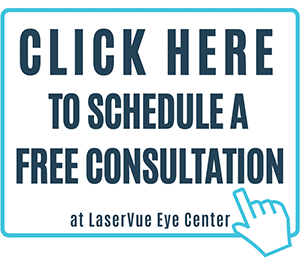 At LaserVue Eye Center, we are dedicated to working with you to achieve your best vision possible by providing the highest quality patient care. If you have been previously disqualified for LASIK eye surgery and would like to learn more about Visian ICL, we are here to help. Millions of people have already experienced the benefits of this revolutionary refractive surgery.
 To determine if refractive implants are a good option for you, contact our board-certified ophthalmologists at LaserVue Eye Center for a Visian ICL consultation.